TCYC History
Below is a timeline of events which have shaped The Cruising Yacht Club to be what it is today. If you have TCYC History information or photo's please can we ask you to email the information to life member Julie Saw- stephensaw@bigpond.com
1956
| | |
| --- | --- |
| Jan 28 | "Prince Philip Cup" for Dragon Class Yacht, held in Cockburn Sound |
| Apr 27 | 1st Meeting held for the Businessman's Luncheon in the Rockingham Hotel Lounge. |
| May 25 | Businessman's Club changed names to the "FRIDAY CLUB" for want of a better title. |
| Oct 26 | The "Friday Club" changed its name to the "CRUISING YACHT CLUB of Western Australia" to be Incorporated. |
| November | "FOUNDATION MEMBERS" Application form sent out to the once known as "Friday Club" and Yacht Clubs in Perth area. |
1957
| | |
| --- | --- |
| Jan 5 | Official Opening of the Inaugural Cockburn Sound Regatta |
| May 7 | "Foundation General Meeting", Royal Freshwater Bay Yacht Club, where W.J.Lucas became 1st Commodore for the Club and the Clubs First Constitution was approved. |
| Jul 25 | Blazer pocket Badge approved, Flag with a red St. George Cross superimposed on a white St. George Cross with a navy blue background with a Golden Dolphin in the upper canton against the hoist. |
| Oct 22 | "Foundation Members List" NOW CLOSED |

W.J.Lucas
1958
| | |
| --- | --- |
| Mar 18 | E.G. Locke informs club, 2 Trustees, (Sir Thomas Meagher & Mr. C.J. Woodroffe) and the Common Seal of the Assoc, had been placed on the Contract of Sale and Transfer of Land Title Document covering the property purchased from Mr. R. Grigg. |
| Jun 20 | Excellency, the Governor, Lieut. General, Sir Charles Gairdner, laid the Club House Foundation Stone, plaque donated by member Mr. Jim Calloway. |
| Aug 19 | First Annual General Meeting for the Cruising Yacht Club of Western Australia (inc) |
| Dec 28 | Building completion of the 1st Cruising Yacht Club premises |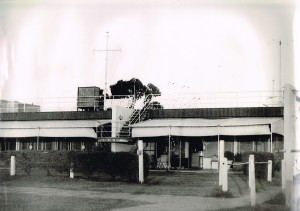 1959
| | |
| --- | --- |
| Jan 4 | Official Opening of the Cruising Yacht Club of Western Australia (INC.) |
| Aug 17 | The Cruising Yacht Club would not be a traditional sailing club without a bell and by 17 Aug, Captain W. Sinnott had procured and fitted the ship's bell in the bar. |
| Aug 31 | E.G. Locke proposed that a Ladies Committee be formed for the club |
| Aug 31 | E.G. Locke proposed that W.J. Lucas be made a LIFE MEMBER. |
| Oct 11 | Club accept the proposal of the General Manager of the Fremantle Harbour Trust that the title to the Jetty and sea bed be passed over to the Fremantle Harbour Trust. |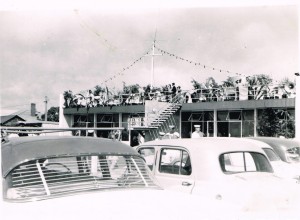 1961
| | |
| --- | --- |
| Feb 21 | Public Risk Insurance on the Rockingham Jetty cancelled as was now the property of the Fremantle Harbour Trust. |
1963
| | |
| --- | --- |
| Oct 15 | Mr. Dvoretsky donates Perpetual Trophy for Div A & B. "DVORETSKY CUP" |
1964
| | |
| --- | --- |
| Aug 28 | By 28 Aug T.C.Y.C. would now take active part in conducting Cockburn Sound Regattas in conjunction with R.F.B.Y.C. |
1967
| | |
| --- | --- |
| Jan 9-16 | The Cruising Yacht Club – Host of the "Prince Philip Cup" in Cockburn Sound |
| Mar 17 | Meeting with R.F.B.Y.C for T.C.Y.C. to take more responsibility of C.S.R's |
1970
| | |
| --- | --- |
| Dec 26 | By Dec 26, 15th C.S.R. T.C.Y.C. had full control of all Cockburn Sound Regattas |
1971
| | |
| --- | --- |
| November | All Membership CLOSED Licensing Court limits T.C.Y.C to 700 members by Nov 1971. |
1978
| | |
| --- | --- |
| Jul 1 | T.C.Y.C Celebrates a 21st Birthday Party to celebrate their Founding 21 years ago. |
1979
| | |
| --- | --- |
| Jan 15 | T.C.Y.C. hosts 1979 "BP World Laser Championships" in Cockburn Sound |
1991
| | |
| --- | --- |
| | Demolition of The Cruising Yacht Club of Western Australia |
1992
| | |
| --- | --- |
| Aug 1 | The Cruising Yacht Club's new Club house Officially Opened. |
2013
| | |
| --- | --- |
| Aug 1 | 21st Birthday for The Cruising Yacht Club's 2nd Club House Building Premises |
Life Memberships

In ALL Clubs there are members who selflessly give their time and energy without any expectations.
The following Members are the quiet achievers who are always the first to Volunteer for a project, event or simply to help the Club.
Life Membership is a rare honour and as you will see from the list below, only 26 Life Memberships have been awarded since the inception of the Club.
To receive Life Membership, a member must be nominated by the majority of the General Committee for outstanding services rendered to the Club.


| | | |
| --- | --- | --- |
| 1959 | ✝ | W J (BILL) LUCAS |
| 1965 | ✝ | L (LANG) CUMMING |
| 1967 | ✝ | W (WAL) SINNOTT |
| 1968 | ✝ | E G (TED) LOCKE |
| 1972 | ✝ | J E (ERNIE) ARCHDEACON |
| 1979 | ✝ | R G (BOB) GRAHAM |
| 1980 | ✝ | G A (GORDON) MEACHAM |
| 1980 | ✝ | G (GEORGE) TREWENACK |
| 1981 | ✝ | W J (JACK) HUMPHREYS |
| 1982 | ✝ | A (ARTHUR) WILLIAMS |
| 1986 | ✝ | F (FRED) POWELL |
| 1987 | ✝ | K (KEITH) PONSFORD |
| 1989 | | P (PETER) GALVIN |
| 1991 | ✝ | S E (SYD) HOWELLS |
| 1991 | ✝ | E (ODE) SAW |
| 1992 | | D (DAVE) RANDALL |
| 1994 | | G (GRACE) PHILLIPS |
| 2001 | | M (MAXWELL) PHILLIPS |
| 2004 | | L (LYN) MERIFIELD |
| 2006 | | T J (TREVOR) TAYLOR |
| 2006 | ✝ | D (DAVID) SLOWLEY |
| 2008 | | S (STEWART) DEWAR |
| 2010 | | J (JULIE) SAW |
| 2012 | | S (STEVE) SAW |
| 2013 | | P (PAUL) BECKWITH |
| 2014 | | S (STEVE) GORBOULD |
| 2018 | | K (KEVIN) SNEDDON |